Staff

Trent Seward
Following is information for Trent Seward:
Email:
studyabroad@bsu.edu
Office Hours:
Monday: 1 pm - 4 pm
Tuesday: 9 am - 1 pm
Wednesday: 1 pm - 4 pm
Thursday: 9 am - 1 pm
Friday: 9 am - 11 am; 1 pm - 3 pm
Department/Title:
Peer Advisor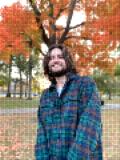 About Trent Seward:
Hi! My name is Trent and I am a senior studying Interpersonal Communications with a minor in Peace and Conflict Studies. I had an exchange program planned for Wollongong, Australia for 2020-21 but sadly, it was cancelled due to the COVID-19 pandemic. This is my first year as a peer advisor and I am nothing but excited to join you on your journey to study abroad. I might not have been able to study abroad, but I would love to help you do so!